Nefesh Tu B'Shevat Seder
Join Nefesh for a mystical Tu B'Shevat seder.
January 27, 2021
@
8:00 pm
–
9:00 pm
PST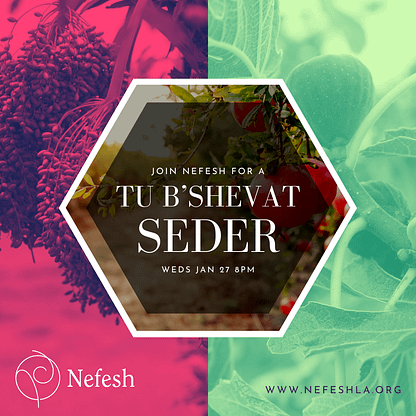 Tu B'Shevat is a Jewish holiday occurring on the 15th day of the Hebrew month of Shevat. It is also called Rosh HaShanah La'Ilanot, literally 'New Year of the Trees'. In contemporary Israel, the day is celebrated as an ecological awareness day, and trees are planted in celebration.
Like Pesach, the Tu B'Shevat seder is guided by a Haggadah, four cups of wine, and questions. In between sipping on red and white glasses of wine, we eat fruit connected to the land of Israel like olives, dates, almonds, and pomegranates.
TASTINGS OF THREE CATEGORIES OF FRUITS OR NUTS:
Those with an inedible outer covering and edible inside: melons, nuts, pomegranates, coconuts, citrus, bananas, etc.
Those with an edible outside but inedible pit inside: dates, olives, plums, peaches, apples, avocados, nectarines, pears, etc.
Those that are entirely edible: berries, figs, grapes, etc.
Note: You will only need one type of fruit for each category. The items listed here are just suggestions!
It is also customary to drink both white and red wine or grape juice, so please have those on hand.