High Holy Days Prep: Elul Workshops
Recurring Event
see all
August 8, 2021
@
3:00 pm
–
4:15 pm
PDT
Join Nefesh for Elul with special workshops throughout the month of August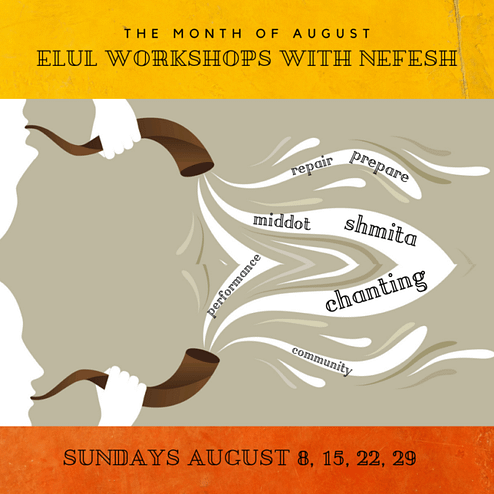 August 8, 15, 22, 29 @ 2-3PM at St. Be's: Yom Kippur Community Choir with Sally Dworsky from our Nefesh Band!
Two years ago we started what we hope will be a growing Nefesh tradition: A Kol Nidre choir. Sally will be guiding you through learning the language, melody and harmony of this beautiful prayer and the Avinu Malkeinu so that we can sing them all together on Yom Kippur.
August 15 at 3 pm at St. Be's and on Zoom: The Alphabet of Wrongdoing with Daniela Gesundheit
In Alphabet of Wrongdoing, vocalist, composer, and cantor Daniela Gesundheit reimagines ceremonial Jewish prayers and blessings encircling themes of reckoning, forgiveness, mortality, striving, and atonement. The performance will investigate communal gestures of forgiveness — attempts to "Restore dignity to existence through music…" (poet Alan Felsenthal). In her "ethereal voice" (The Globe and Mail) Gesundheit asks: Can we transmute a world's weight of unforgivable acts, an Alphabet of Wrongdoing
August 22 at 3 pm at Santa Monica beach lifeguard station 26 at Ocean Park Blvd: The Shmita Year on Tongva Land w/ Ian Schiffer
This fall in the year 5782, according to the seven year Hebrew agricultural cycle, we are encouraged to let the land rest and absolve debts. As Jews on Tongva Land, we will gather in preparation for the Shmita year to learn whose land we are on, practice being a good guest, let go, return (to the) land, and dream into what repair we'd like to be part of while it rests. In advance, Ian encourages you to watch the City of Ghosts episode "Tovaangar" and the webinar Beyond Land Acknowledgements featuring Tongva leaders. Please contact Ian at ischiffer@nefeshla.org with any questions.
August 28 at 3 pm (St. Be's and on Zoom): The Fourfold Song – How the Middot Can Shape Our Inner Lives, The World Around Us, and Our Relationships in the Coming Year with Rabbi Susan Goldberg
Join us as we explore Rav Kook's text of the Four Fold Song and integrate the learning into our work with the middot. The middot are the deepest values of the Jewish tradition and serve as vessels for life long meaningful spiritual growth. Open to those who are new to middot learning and those who have been engaged. This is a good preparation for the process of choosing a middah for the year on Rosh Hashanah.
Sign Up for Elul Workshops
Related Events