High Holy Days: Prep Book Group & Discussion
August 15, 2021
@
6:00 pm
–
7:15 pm
PDT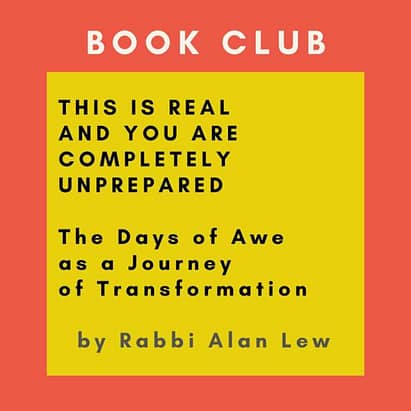 Join Nefesh for a High Holy Days Prep Book Group & Discussion on "This is Real and You are Completely Unprepared" by Alan Lew, co-facilitated by Nefesh Kin Lisa Blum and Eve Rubell (with additional support from Beth Pickens and Michele DeRosa).
Cost: free; location: Zoom
Five Sundays from 6:00 – 7:15 PM Pacific:
July 18 – Chapters 1 – 3: Tisha B'Av
August 1 – Chapters 4 – 5: Month of Elul and Selichot
August 15 – Chapters 6 – 7: Rosh Hashanah and Teshuvah
August 29 – Chapter 8: Yom Kippur – Kol Nidre
September 12 – Chapters 9 and 10: Yom Kippur – Atone & Ne'ilah
The book can be purchased here: Indigo IndieBound Amazon
We encourage participants to read the first three chapters before the first meeting. However, you are of course welcome to attend and join the discussion even if you haven't gotten that far in the book.