High Holy Days 5783: Kin Book Group & Discussion
September 11
@
10:00 am
–
11:15 am
PDT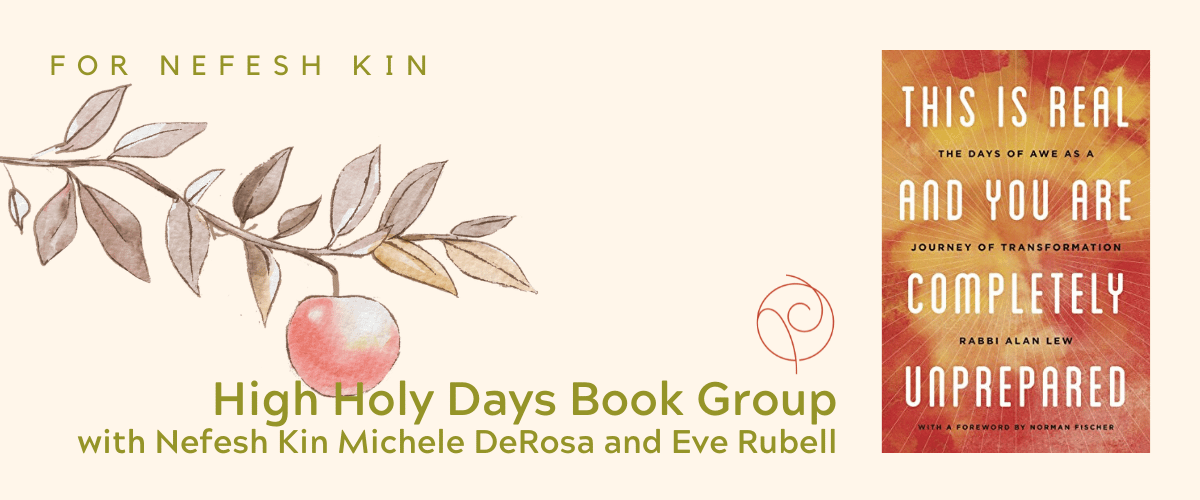 Join fellow Nefesh Kin for a High Holy Days Prep Book Group & Discussion on This is Real and You are Completely Unprepared by Alan Lew, co-facilitated by Nefesh Kin Eve Rubell and Michele DeRosa.
The book can be purchased here: Little, Brown and Company
Location: Zoom (the link will be shared after you register)
Six Sundays from 10:00 – 11:15 AM Pacific:
August 7 | Chapters 1 – 3: Tisha B'Av
August 21 | Chapters 4 – 5: Month of Elul and Selichot
September 11 | Chapters 6 – 7: Rosh Hashanah and Teshuvah
September 18 | Chapter 8: Yom Kippur – Kol Nidre
October 2 | Chapters 9- 10: Yom Kippur – Atone and Ne'ilah
October 9 | Epilogue: Sukkot and moving forward
You are welcome to attend and join the discussion even if you are new to the book or have missed previous meetings.
Price: Free for Nefesh Kin
This group is at capacity. If you are interested in joining, please reach out to Ellen Kennedy.
This offering is open to Nefesh Kin only. Curious about becoming Kin? Click here or reach out to Jordana Fraider, Executive Director at jfraider@nefeshla.org.